View inventory & prices
See which shipping container inventory options
are available in your area.
Choose the best deal
Choose which shipping container is best
for your needs.
Container is shipped!
Once you have selected the best option for you,
we will deliver directly to you. It's easy!
Container Alliance is the shipping container company to choose when you need solutions for your storage and shipping needs. No other container provider offers you as much as we do, from refrigerated units for cold storage to converted containers for use as temporary office space. We serve customers throughout California and Nevada, helping them find shipping containers for sale or rent that meet their requirements. As a full-service cargo container company, we also provide customization options as well as accessories to ensure you have exactly what you need.
Why Container Alliance?
We know you have a lot of choices when looking for a storage container company, but we stand apart from the rest for a number of reasons. As the largest network of providers in North America, we provide you with virtually limitless options to meet your specifications. No other moving container company has as much expertise and knowledge as we do, meaning you can count on us to provide you with the exact solution you need.
We're also flexible, providing rentals or sales so you don't have to worry about being locked into a long-term arrangement when you only need a temporary boost in capacity. If you need a custom shipping container for your business, it's no problem. We have a team of modification experts who are ready and willing to help you transform your container into whatever you want, whether it's an office, a kitchen, a demo booth, or something else.
We work nationwide, with containers available in every major metropolitan area across the country. Even though we offer services on a national scale, you can still expect the dependability and customer service you would normally only expect from a smaller company.
Find inventory in your area

Where are you located?
Request a Quote

Quickly tell us your needs and we will be in touch shortly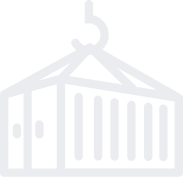 Containers vs Pods
®
Container Alliance provides heavy duty shipping containers for sale or rent that are also great for portable storage applications. There are some substantial differences between Pods® that are intended for moving and storage.
| | | |
| --- | --- | --- |
| | Pods® | Containers |
| Double gasket on cargo doors | | |
| Durable and tough for construction applications | | |
| Water and rodent proof | | |
| High security with multiple locking points | | |
| Capable of off-road delivery | | |
| 100% steel exterior frame, roof and sidewalls | | |
| Available in both cargo and roll-up doors (requires modification) | | |
| Customizable | | |
| Delivery to your location | | |
| Lockable | | |
| Able to store at Pods® facility | | |

Benefits of Containers
Container Alliance offers the widest selection of high quality storage - shipping containers for sale or storage containers for rent.

Knowledge & Service
Container Alliance partner companies are highly knowledgeable and will understand your specific situation and provide the utmost customer care and service.