Storage containers for sale have become a very popular means of providing extra space, outbuildings, short term and long term storage solutions.
Cargo storage containers are now available in all major metropolitan areas throughout the nation. Container Alliance has formed a network of small businesses that understand your market constraints and will provide storage containers for sale in your area. Please visit our areas selector to find the Container Alliance partner in your area.
This container sales guide serves to help you get informed about buying a shipping container or portable storage container in your area. Shipping containers are a very cost effective way to serve countless purposes.
The first decision is to decide between renting or purchasing the container(s). If you plan on needing the container for an extremely long term or permanently, it is probably better to buy the container rather than rent the container. Before you make your purchase you should think about and research any municipal rules against containers in your area, in this case we would recommend that you contact your local city or county to determine if any local ordinances against containers exist. If you are unsure, or need more information or help with your municipality please contact the NPSA (National Portable Storage Association)
If you decide to purchase a container, you have many options. Containers are available in variable sizes, conditions and door configurations. The most common is a dry freight container with a cargo door on one end. The dry storage containers or "dry vans" are very prevalent around the globe with millions in circulation. By far the most common is 20' storage or shipping containers and 40' Storage or shipping containers. You have the option of purchasing dry, insulated, refrigerated or modified containers in various sizes. Availability varies by location across the county, but in general it will be easiest to find 20' and 40' containers. Please keep in mind that any time you stray from the common sizes and types you will pay much more and increase the risk of receiving a container in substandard condition.
A few questions to first ask yourself before deciding to rent or buy a container...
How long do you plan on needing the container(s)? - This is a very important question because all major container rental companies have customers who rent containers for years and then do not understand why they do not own the container(s). Rental rates are structured as such that the rent does not apply towards the purchase of the container. Rental rates are very competitive and companies often lose money on delivery and pickup charges with the intention of making up for this loss in rental fees. The bottom line is that if you need the container for a few years or permanently you will be much better off purchasing the storage container.
Is your location adequate to host your container? - This is a very important question because there are requirements involved.
a) Delivery space: Proper delivery space is required in order for the delivery of the container to be possible. As a general rule of thumb you will need twice the length of the container plus 10 feet in a straight line to deliver the container with a standard tilt bed "roll off" style truck bed or trailer. Adequate clearance and width is also required but the amount of length is typically the issue that tends to be a problem at delivery. It is very common for people to assume that because they have 40 ft of space they can accommodate a 40ft container. This is simply not the case. You will need to have enough room for the container trailer and truck in a straight line in order for the container to be dropped using a tilt bed or roll off truck and trailer system. Roll Offs are by far the most effective way to deliver shipping containers for sale.
b) Restrictions: Certain sub developments, cities and counties have restrictions against containers. It is normally up to you to research this fact. Most container companies cover multiple cities and areas and are unable to keep track of all municipal restrictions in multiple areas. City and county municipalities typically utilize containers just as you plan to. Assuming your property has the room it should be in your rights to buy a storage container.
c) Location: The container needs to be in a good location. Is the location level? If not the doors may not function properly. If you plan to put your container in a location that is not level be prepared at delivery with wood blocks to assist the delivery driver in leveling the container. Adequate drainage? The areas should also have adequate drainage to avoid having your container sitting in any standing water and or having your container sink causing leveling issues.
What type of container condition are you expecting? In the container market there are good deals and there are really bad deals and everything in between. Good deals will most likely be a great container for a good price. If you come across a deal that is "too good to be true", like in most other cases, it probably is. Make sure you are very clear with the company you choose; what you are expecting condition wise, what you plan to use the container for, and what you are expecting to pay in total including tax and delivery. Container Alliance has done the work to choose trustworthy companies that are interested in your expectations. As a consumer it is your responsibility to tell them what you expect and what your needs are so the proper container can be selected for you. It is important to allow the experts to assist you in your purchase process. Sales reps are great resources and can steer you in the right direction when buying a shipping or storage container.
Different conditions, categories or grades:
One Trip Containers: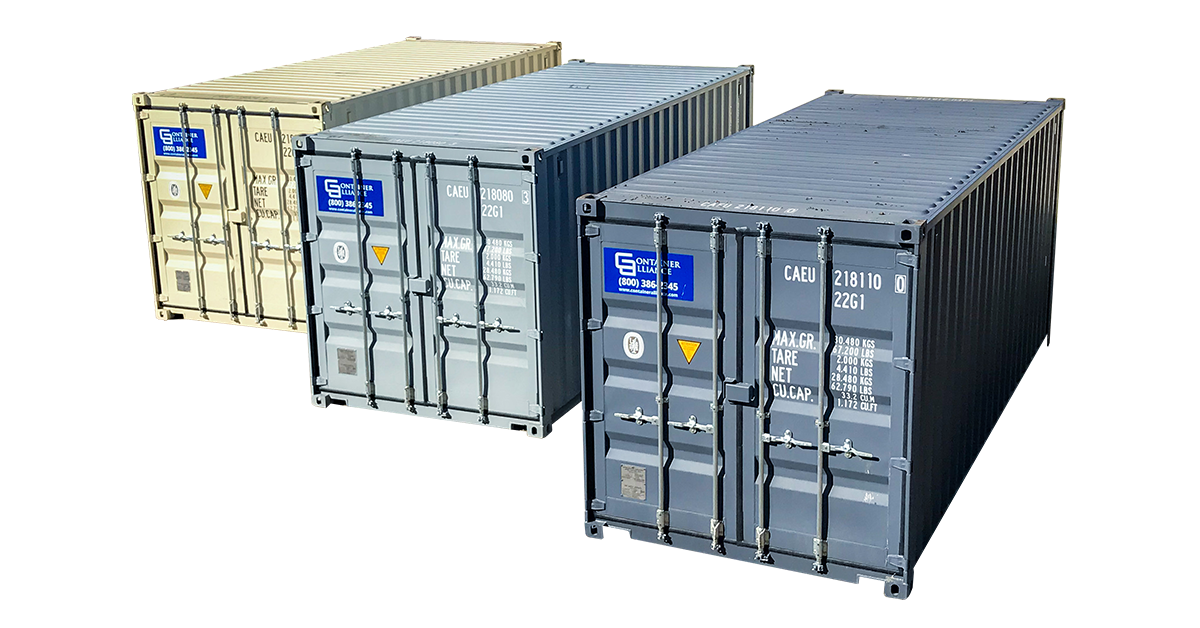 One trip containers are manufactured overseas; mainly in Asia and are shipped with a single container cargo load. Once the container reaches its destination they are often available for sale. These containers are an excellent choice because they have not spent time deteriorating on the ocean or in a container depot / terminals. One trip containers have not been handled as many times so they typically have minimal dents, dings and surface rust like the used containers. Most consider the One Trip containers and often refer to them as "new" or in "like new" condition. Keep in mind that these containers have made one trip across the ocean and have been handled by container lifts and trucks so they often have a few scratches and a possible ding or two. One trip containers are available worldwide in most port locations. I would strongly consider choosing a one trip container if you do not want to deal with maintenance and esthetics of used containers. We offer one trip containers in various sizes and door configurations from 10ft to 40ft in length with doors on one or both ends. We also offer "high cube" one trip containers in the same dimensions and configurations. For more information on one trip containers, call your local sales representative today to find out which option best suits your needs.
Advantages associated with newer "one trip" containers:
Corten Steel COR-TEN® is a type of weathering steel produced by US Steel that uses alloying elements such as copper, chromium, silicon and nickel to enhance the atmospheric corrosion resistance of the steel. The addition of these elements also results in a high strength steel that typically exhibits a 50 ksi minimum yield strength. Corten steel has become the standard shipping container, steel bridges and building exposed to a marine environment.
Factory Paint These containers are manufactured, and painted in a controlled environment using multiple layer paint applications. There are advantages of this process over the typical container refurbishment. These units are not old containers made to look newer. They are exactly what they look like, new containers. Refurbished containers can have rust issues under the paint. There are often rusty deteriorated steel containers with the rust simply painted over. Chances are you will also receive a container that was sprayed outdoors with water based paint which will only last a shorter amount of time then the factory paint. Not all refurbished units are bad containers. If the rust is ground off and the container is primered where the steel is exposed, you will not have issues with your refurbished container. Selecting a new container will take the guesswork out of this completely.
Lockbox: One trip containers come standard with a security lockbox where the doors meet. This box prevents bolt cutters or any other tool used to break a lock. We have inventory of the slim lock used for these one trip lockboxes.
No shipping label These containers are not painted bright colors with a shipping label company advertisement on them. They are typically solid one color and do not need to be repainted.
No let down and no surprises These containers are considered "like new" and you will not be surprised or have to worry about the condition your container(s) will be in when they arrive at your location.
Over the years we have replaced thousands of used shipping containers that have been sold into the North American market. We do not see many circumstances where one trip container needs to be replaced because they have rusted or worn out on land. If your needs require a permanent solution we would strongly recommend buying a one trip container that will most likely last longer than all of us.
Cargo Worthy Containers: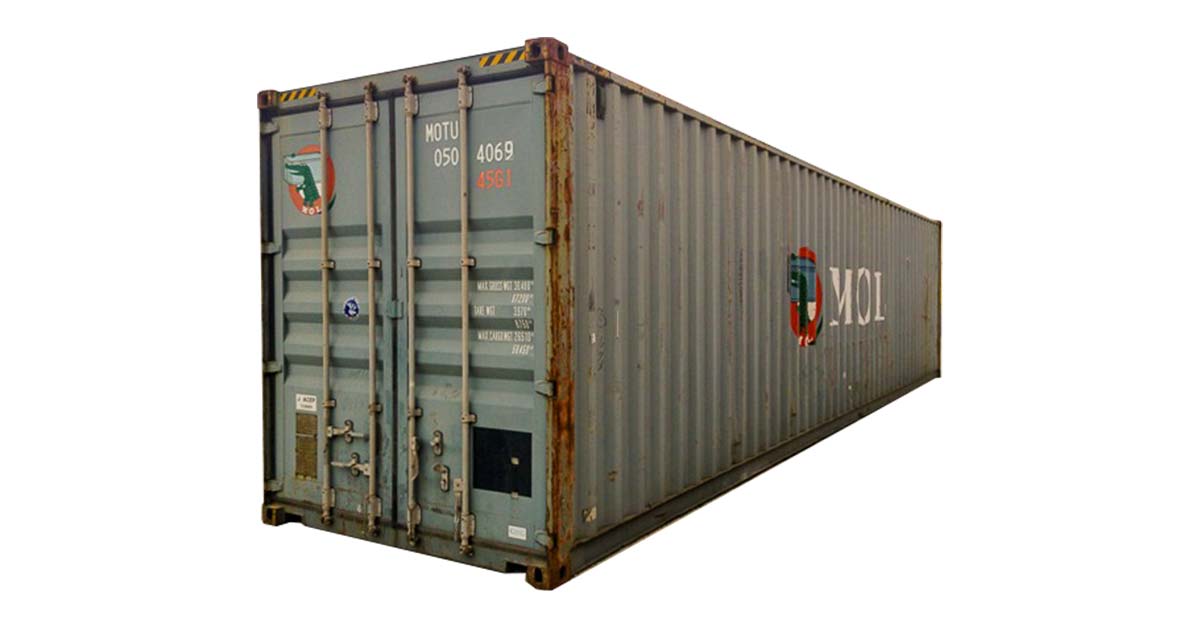 Cargo worthy containers are used containers considered suitable for ocean going transport of cargo. If your need requires shipping overseas, a cargo worthy container must first be surveyed or certified by a licensed surveyor prior to delivery or pickup. Regardless if you plan to ship your container or not, a surveyed container will insure that you will not receive a damaged unit. Shipping containers for sale that are in cargo worthy condition will certainly be water tight and structurally sound. If your needs require shipping a container you must select a cargo worthy grade container or one trip grade. Cargo worthy inspection criteria is based on condition of the doors, floor, walls and ceiling. Structural integrity is also a major factor when it comes to certification of shipping containers.
Used "AS IS" and "WWT" (Wind and Water Tight):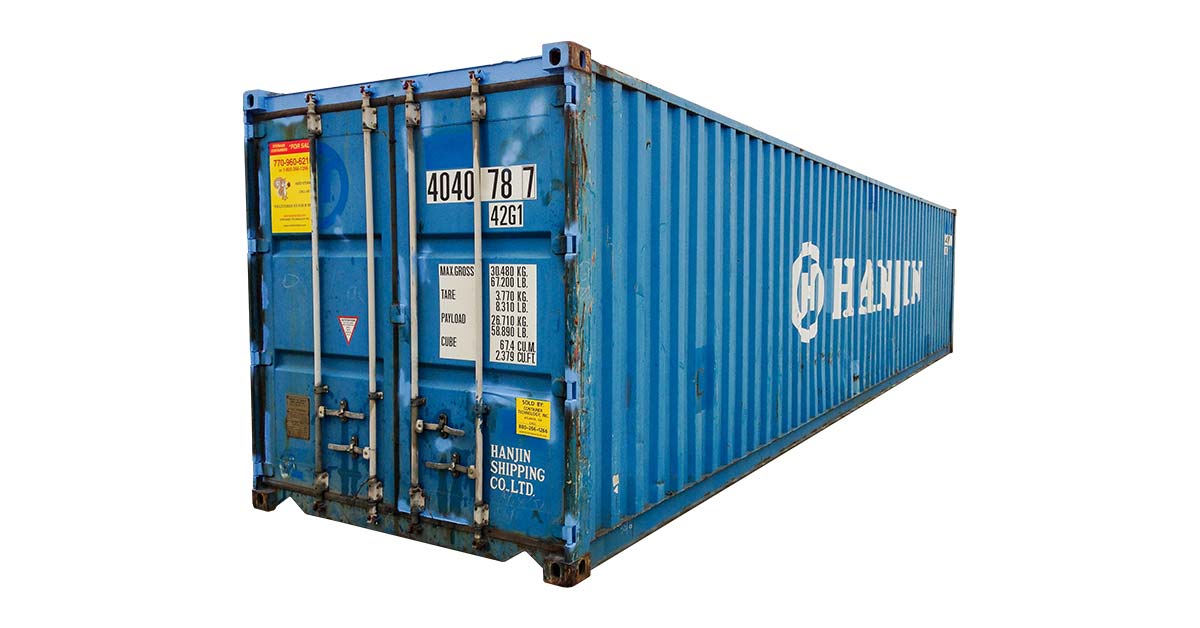 "AS IS" Containers are the cheapest option when buying a shipping or storage container. "AS IS" units are used as shipping containers for years then retired by shipping or leasing companies. "AS IS" storage containers are available for sale in every major metropolitan and port location around the world. Storage and Shipping containers are often categorized as "A grade", "WWT" (wind and water tight) or "AS IS". You must understand that most used containers have surface rust where they are scratched and are often labeled by the shipping label in various colors. Used containers in this category are the most popular choice due to the inherent value associated with the abundant supply of these containers. "AS IS" containers do not come with the same guarantee to be leak proof or have no holes that the "WWT" containers have.
Modified Containers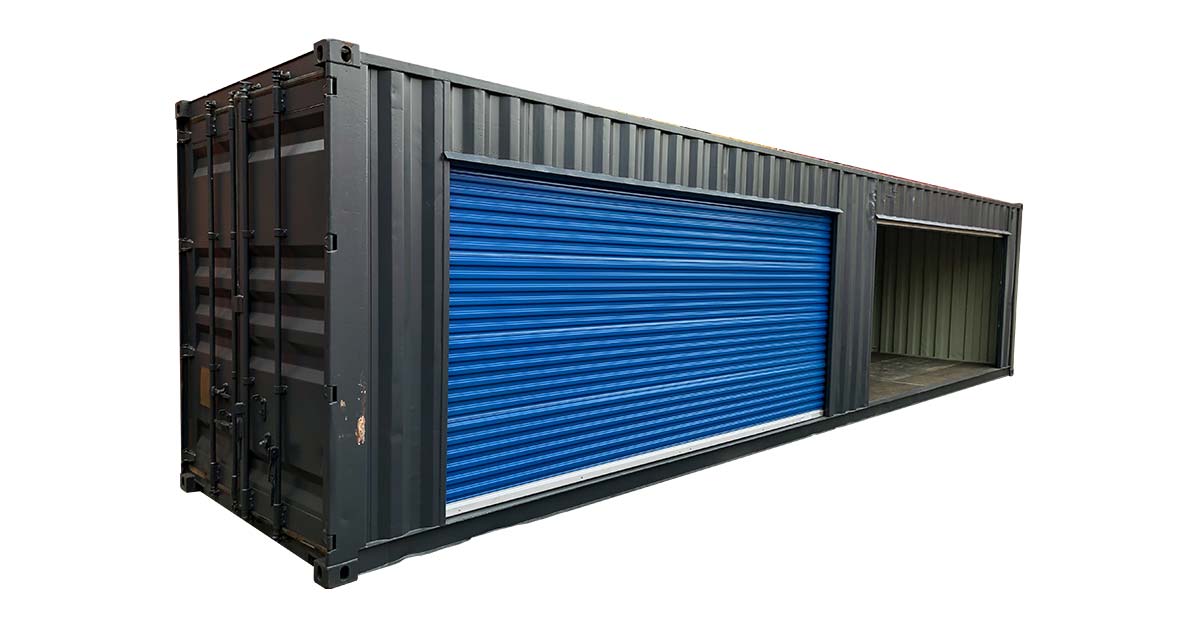 Modified containers are very popular and an excellent choice. Most mobile storage companies offer modified units and will work with you on the best container for your needs. Although painting containers is always a good idea some modifications have negative aspects. Popular "roll up doors" for example are not as secure and do not last as long as the standard ISO Cargo door. Another fact to think about is that ISO standard shipping containers are manufactured to create a weather proof 100% seal. If you modify the container in certain ways you may be compromising the inherent advantages associated with a water tight sealed container. Listed below is a list of common modifications to think about. Container Alliance partner companies may or may not offer some or all of these modifications. Use the Location Map to find the partner in your area and be very clear and specific about your modifications needs and expectations.
Common Modifications

Exterior Paint

Interior Paint

Turbine Vent

Lock Box

Roll up door

36" or 48" Walk through door

Custom Frame/ Door using container side

Windows

Security Bars

Sliding Doors

Heat/ AC units (side or roof mount)

Partitions

Plan tables

Skylights

Roof Seal

Electrical Outlets

Custom sized containers

Exhaust fans

Lighting

Electrical Packages

Side Vents

Area cut outs for Prefab housing

Shelving Brackets

Tack room applications

Framing / Insulation

Cargo doors
Storage and Shipping Container design
Storage containers are constructed with 12- or 14-gauge corrugated steel sides. Container frames are made of minimal 6-8-gauge steel. Containers have approximately 1" hardwood floors that are treated. Standard containers come equipped with a cargo door. Cargo doors are excellent because they seal tight from rodents and the elements. They also give you the ability to open the entire end of the container and load very large items. Please see specifications listed above for door open dimensions. Some companies also offer "roll up" doors. Roll up doors have advantages and disadvantages when compared to a typical cargo door. Roll up doors are convenient because they are lightweight and easy to open. This confidence comes with obvious downsides. Roll up doors are not as secure and are not 100% water tight. They are typically also not rodent proof.
On Site Container Delivery and Installation
It is very important to confirm that it is possible for a Container Alliance partner to deliver a container to your location. Typically your supplier will deliver the container in a "tilt bed" roll-off style truck or trailer. The smaller trucks that typically deliver 10' and 20' units resemble medium sized flat-bed tow trucks. These trucks have fixed axles and very in terms of maneuverability but as a general rule of thumb these trucks typically require 60 ft. in a straight line to back, or pull into the area you need the container. After the truck pulls into the location of desire, the driver will then lift the front end of the bed and pull straight forward until the container slides off the truck and onto the ground. The NPSA
Most small businesses, contractors and residential users choose 20' containers since they provide access, take up less space and do not require as much room for delivery as the 40' containers. 40' models provide almost three times as much storage space but also require three times as much space to deliver. It is also important to check with your city or county to make sure there is not a container size restriction in your area.
Besides the typical sizes that are designed for the shipping industry, companies often offer containers in other lengths, These containers are typically cut down to make other sizes in length. These often come in sizes as small as 10' and range up to 45', 48' or 53'. The larger sized containers 40' 45' 48' and 53' are also often available as "high cubes". High cube containers are 9'6" high with a much larger total storage capacity.
Container Uses:

Jobsite Container Storage

Pre build self storage facilities

Construction Storage

Mobile field office

Tool Storage

Overflow Equipment Storage

Inventory Storage

Work Area / Work Shops

Emergency Shelters

School Buildings, surplus supplies

Artist Studios

Flower Stands

Firework stands

Fire training facilities

Military training

Movable exhibition spaces

Agriculture Storage

Farm Equipment and supply storage

Ranch Storage

Paint Storage

Files, Books, Business Record Storage

Sports equipment storage

Snack bars, Concession stands

Boat, Classic or Collector car, Truck, Motorcycle, Tractor, ATV, Snowmobile storage

Automobile Storage

Guard Shacks

Hunting Shelters

Driveway portable storage units

Retaining walls

Secure perimeter barriers

Fencing and Storage

Containers as Structures

Wine, Vintner Storage

Temperature controlled storage for food products

Overflow Cargo Storage

Field research storage

Generator sound insulator

Residential moving and storage
Typical Dimensions

Exterior

Interior

Door Opening

Length

Width

Height

Length

Width

Height

Width

Height

10' Standard Dry Container

10'

8'

8'6"

9'3"

7'8"

7' 9 7/8"

7'8"

7'5"

20' Standard Dry Container

20'

8'

8'6"

19'3"

7'8"

7' 9 7/8"

7'8"

7'5"

40' Standard Dry Container

40'

8'

8'6"

39' 5"

7'8"

7' 9 7/8"

7'8"

7'5"

40' High Cube Dry Container

40'

8'

9'6"

39' 5"

7'8"

8' 10"

7'8"

8' 5 1/2"

45' High Cube Dry Container

45'

8'

9'8"

44' 5"

7'8"

8'10"

7'8"

8' 5 1/2"

20' Refrigerated Container

19' 10.5"

8'

8'6"

17' 11"

7'6"

7'6"*

7''5"

7'3"

40' Refrigerated Container

40'

8'

8'6"

37' 11"

7'6"

7'6"*

7''6"

7'6"

40' High Cube Refrigerated Container

40'

8'

9'6"

37' 11"

7'6"

8'4"*

7''6"

8'4"
Typical Weights / Capacity

Cubic Capacity

Tare Weight

Max Gross

Max Payload

20' Standard Dry Container

1,165 sq. ft.

5,050

67,200

62,150

40' Standard Dry Container

2,350 sq. ft.

8,000

67,200

59,200

40' High Cube Dry Container

2694 sq. ft.

8,775

67,200

58,425

45' High Cube Dry Container

3043 sq. ft.

9,810

72,800

62,990

20' Refrigerated Container

1,010 sq. ft. (967)**

6,503

52,800

46,407

40' Refrigerated Container

2,051 sq. ft. (1959)**

9,700

67,200

57,450

40' High Cube Refrigerated

2,380 sq. ft. (2,289)**

9,590

70,550

60,960
The Container Alliance helps you locate local vendors that supply 20 ft shipping containers, 40 ft shipping container, and ISO containers for sale. The unique vendor matching system at our web site helps those seeking to buy a used shipping container for sale, rent a shipping container or searching for information on how to rent shipping containers. Companies seeking information on renting shipping containers, storage container sales, used container sales and storage containers for sale will find our web site a unique resource on the web.