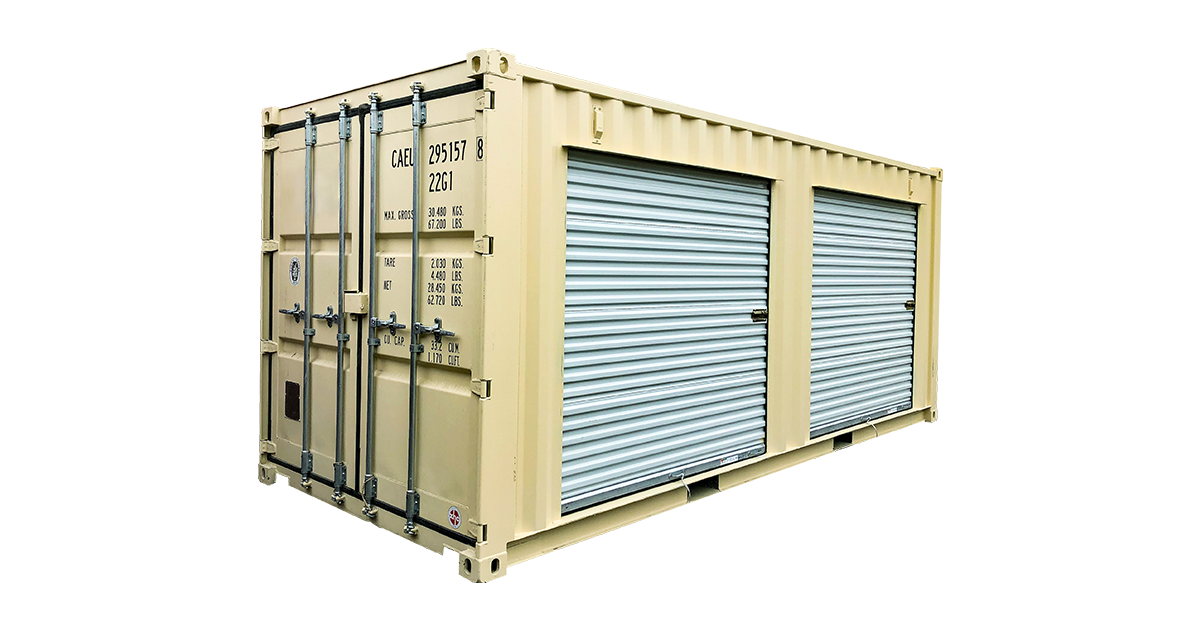 Description
Custom Door Options

Access is very important when considering a container. Different applications require different door configurations to access the unit's interior. We have various door options that can be installed allowing access from the container's side or opposite end. Roll up doors and personnel walk through doors are the most common..
Roll Up Doors
Roll up doors provide easy access in tight spaces and range in sizes from 4'-12' in width. They come standard with a latch lock but a keyed deadbolt lock can always be added.
Walk Through Doors
If you plan to enter and exit the container frequently, walk through doors provide a convenient solution. A standard 36"W x 80"H lightweight steel door is our most popular and cost effective choice. We also have options for custom sized steel corrugated doors as well as french doors.
Steel Sliding Doors
Steel sliding doors are created as an alternative to roll up doors when full size wall height is needed. These are framed from the corrugated side and are slide along a fixed track. Sizes available range from 5ft to 20ft in width. Another great thing about this door is that it is virtually invisible when the container is shut and can be locked from the inside, making it very safe and secure. These doors are very heavy and industrial, perfect for workshop applications, mobile product display or "pop up" store fronts.
Steel Corrugated Doors
Steel Corrugated doors are safe, secure and made of container siding material making them very cost effective and offered with additional lockbox making them lockable from two places. The safest door we offer if security is a concern.
Ask a Container Alliance representative for more information regarding door modification options.
Types of Custom Doors Modifications

Have questions or need assistance?
Why Buy From a Container Alliance Partner?

Largest Selection
Container Alliance offers the widest selection of high quality storage - shipping containers for sale or storage containers for rent.

Knowledge & Service
Container Alliance partner companies are highly knowledgeable and will understand your specific situation and provide the utmost customer care and service.