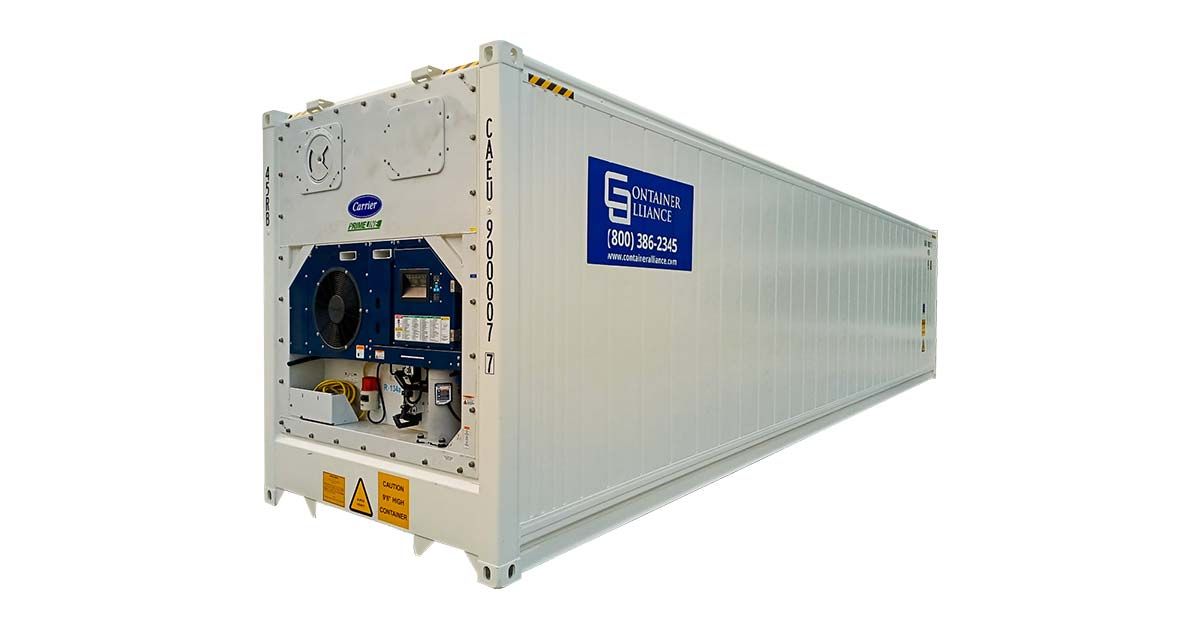 40ft High Cube Refrigerated Container
Overview
Like new container that requires three phase power to operate. Range: 75 to -20 degrees F. Dimensions: 40' length, 8' width, 9'6" height.
Requires Three Phase Power
Requires Voltage of 440/460V
Ranges From -20 to 75 Degrees Farenheight
Description
The 40-foot High Cube Refrigerated Container can maintain a temperature range between 75 to -20 degrees Fahrenheit. This can be useful in countless situations, including when you need to maintain consistent, cold temperatures for food storage or a chemical supply.


These High Cube Refrigerated Containers can run on 50 or 60 Hz with a power supply that needs to be grounded and contains circuit breakers functioning at a minimum of 30 amps. If your power supply uses 208/230 volt, then they need to be a minimum of 50 amps. The electrical system supports a voltage variance of (+) or (-) 15% and must be protected from power surges. It is equipped with internal circuit breakers to protect the fan motors and control circuits.


Upon delivery of these refrigerated units, you will receive a 460-volt cable with a standard ISO CEE 59-foot power plug. The 230-volt cables do not come with power plugs.


Call us today to discuss our refrigerated containers, from new to used, with various machinery options to suit your cold storage needs.


40ft High Cube Refrigerated Container Specifications
Exterior
Interior
Door Openings
Trip Weight
Fork Pockets

Length: 40'

Width: 8'

Height: 9' 6"

Length: 37' 11"

Width: 7' 6"

Height: 8' 4"

Width: 7' 6"

Height: 8' 4"

Tare: 9,590 lbs

Max Gross: 70,550 lbs

Cubic Cap: 2,380 cu. ft

Height: 0' 4 1/2"

Width: 1' 2 3 /16"

Center: 6' 9 7/8"

Have questions or need assistance?
Why Buy From a Container Alliance Partner?

Largest Selection
Container Alliance offers the widest selection of high quality storage - shipping containers for sale or storage containers for rent.

Knowledge & Service
Container Alliance partner companies are highly knowledgeable and will understand your specific situation and provide the utmost customer care and service.