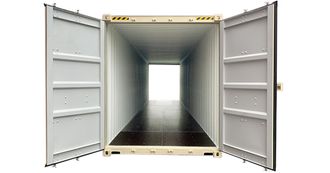 40ft High Cube Double Door One Trip Shipping Container
40ft High Cube Double Door One Trip Shipping Container
Pro Box
 is our partner company for zipcode .
Give them a call to get a quote and reserve the next unit available today!
Overview
40' High Cube Double Door - One Trip: Description
Our 40-foot High Cube Double Door One Trip Shipping Containers come to us straight from the manufacturer in
like-new condition
. They are loaded up a single time for their overseas trip and make a single ocean voyage before arriving to us in pristine conditions. These are among the newest and most aesthetically valuable containers you can find since most containers are manufactured in Asia and have to ship to us in North America. These containers are made with 14-gauge corrugated steel and eco-friendly flooring resistant to fungal and insect infestations.
These 40-foot containers increase usability by having double doors on either end of the unit. No matter how you need to get in and out, these doors make it all-around more convenient. The manufacturer also includes lock boxes for both sets of doors to increase the security of the unit. Since it is a "high cube" container, you also get more interior capacity. High cube containers are a foot taller than standard ISO units.


40ft High Cube Double Door One Trip Shipping Container Specifications
Exterior
Interior
Door Openings
Trip Weight
Fork Pockets

Length: 40'

Width: 8'

Height: 9' 6"

Length: 40"

Width: 7' 8"

Height: 8' 10"

Width: 7' 8"

Height: 8' 5"

Tare: 8,490 lbs

Max Gross: 67,200 lbs

Cubic Cap: 2,381 cu. ft

Height: 0' 4 1/2"

Width: 1' 2 3 /16"

Center: 6' 9 7/8"
40' High Cube Double Door - One Trip Modifications

Have questions or need assistance?
Why Buy From a Container Alliance Partner?

Largest Selection
Container Alliance offers the widest selection of high quality storage - shipping containers for sale or storage containers for rent.

Knowledge & Service
Container Alliance partner companies are highly knowledgeable and will understand your specific situation and provide the utmost customer care and service.