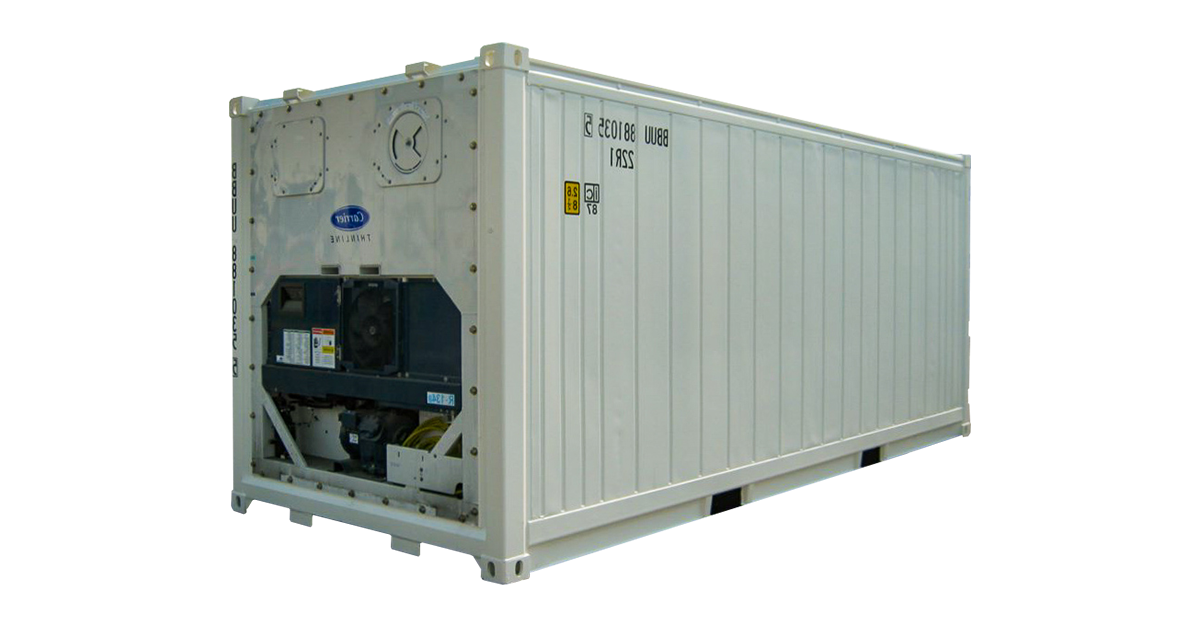 20ft Refrigerated Shipping Container
Overview
Refrigerated container that requires three phase power to operate. Range 75 to -20 degrees F. Dimensions: 20' length, 8' width, 8'6" height.
Requires Three Phase Power
Requires Voltage of 440/460V
Ranges From -20 to 75 Degrees Fahrenheit
20ft Refrigerated Shipping Container: Description
Container Alliance offers many variations of working refrigerated containers. One of these is the 20-foot Refrigerated Container. These can maintain any designated temperature within the range of 75 degrees to -20 degrees Fahrenheit.


All of our refrigerated units are available for running on systems of 50 or 60 Hz. These require three phases of power where the power supply is grounded with circuit breakers with a minimum of 30 amps. If you use a power supply of 208/230 volts, the circuit breakers need to be at least 50 amps. Our refrigerated container's electrical system supports voltage variances of (+) or (-) 15% but needs to be protected from electrical power surges. The unit does contain fuses that will protect the control circuits and fan motors.


When you order this unit, we deliver it with a standard ISO CEE 59-foot power plug and a 460-volt cable. Note that our 230-volt cable does not come with a power plug.


20ft Refrigerated Shipping Container Specifications
Exterior
Interior
Door Openings
Trip Weight
Fork Pockets

Length: 19' 10 1/2"

Width: 8'

Height: 8' 6"

Length: 17' 11"

Width: 7' 8"

Height: 7' 6"

Width: 7' 5"

Height: 7' 3"

Tare: 6503 lbs

Max Gross: 52,800 lbs

Cubic Cap: 1,010 cu. ft

Height: 0' 4 1/2"

Width: 1' 2 3 /16"

Center: 6' 9 7/8"

Have questions or need assistance?
Why Buy From a Container Alliance Partner?

Largest Selection
Container Alliance offers the widest selection of high quality storage - shipping containers for sale or storage containers for rent.

Knowledge & Service
Container Alliance partner companies are highly knowledgeable and will understand your specific situation and provide the utmost customer care and service.