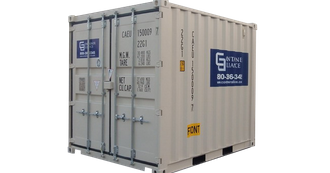 10' Rental - Container
Premium Refurbished or New Container
10' Rental - Container
Container Alliance
 is our partner company for zipcode .
Give them a call to get a quote and reserve the next unit available today!
Overview
10' Container - Rental: Description
Our 10-foot rental containers provide our customers with 582 cubic feet of secure space to support your project. These containers are compact enough to fit into tighter spaces, making them one of the most portable and versatile Container Alliance options. Each 10-foot rental container that we offer is in new or refurbished condition and is clean and ready-to-use.


We cater to many residential customers who use the 10-foot rental container for tasks including home remodels, construction projects, car or boat storage, tool storage, farming, and hunting storage or personal storage. Our commercial clients appreciate the 10-foot rental container model for storage needs such as construction yard equipment, schoolyard equipment, inventory overflow, and storage for files and records, hazardous materials, and fire department equipment.


These units are extemely popular because they are secure and watertight, offer ground-level access, feature all-steel construction and manufacturing to ISO specifications.


We are sure you will appreciate the benefits of this durable unit, and your satisfaction is guaranteed. If your 10-foot rental unit doesn't live up to your expectations for any reason, we will pick it up and replace it at no charge to you.


Residential Applications:
Home Remodels
Construction Projects
Car or Boat Storage
Farming or Hunting Equipment Storage
Tool Storage
Personal Storage
Commercial Applications:
Construction Yard Equipment Storage
School Yard Equipment Storage
Inventory Overflow
File or Record Storage
Hazardous Material Storage
Fire Department Storage
10' Rental - Container Specifications
Exterior
Interior
Door Openings
Trip Weight
Fork Pockets

Length: 10'

Width: 8'

Height: 8' 6"

Length: 9' 2"

Width: 7' 8"

Height: 7' 9"

Width: 7' 8"

Height: 7' 5"

Tare: 2,870 lbs

Max Gross: 24,910 lbs

Cubic Cap: 563.3 cu. ft

Height: 0' 4 1/2"

Width: 1' 2 3 /16"

Center: 6' 9 7/8"
10' Container - Rental Modifications

Have questions or need assistance?
Why Buy From a Container Alliance Partner?

Largest Selection
Container Alliance offers the widest selection of high quality storage - shipping containers for sale or storage containers for rent.

Knowledge & Service
Container Alliance partner companies are highly knowledgeable and will understand your specific situation and provide the utmost customer care and service.