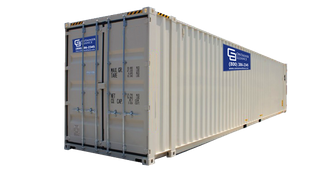 45' High Cube Rental Container
Largest Cubic Capacity Available 
Premium Refurbished or New Container
45' High Cube Rental Container
Container Alliance
 is our partner company for zipcode .
Give them a call to get a quote and reserve the next unit available today!
Overview
45' High Cube Container - Rental: Description
The 45-foot High Cube Rental Containers available from Container Alliance are fabricated with 14-gauge corrugated steel walls, and the flooring is made of durable marine-grade plywood. They are also constructed for increased versatility and adaptability since they have an additional post located at the 40-foot mark. This post enables them to be stacked not only with 45-foot units but with 40-foot containers as well.


Our 45-foot High Cube Rental Container is the largest unit we have available that you can rent. These containers add 5 feet in length compared to the standard 40-foot units and a foot of increased height. The container has a total interior holding capacity of 3,043 cubic feet. Compared to the standard 40-foot container, these are 22% larger and sold at a lower price per square foot than any of our other rental units.


As always, security is a high priority at Container Alliance. No matter what you store— tools, vehicles, construction equipment, or home remodel supplies, your cargo doors will stay shut and locked tight with the included security lockbox. Give us
a call
today to talk about your rental options from Container Alliance.
Residential Applications:


Home Remodels
Construction Projects
Car or Boat Storage
Farming or Hunting Equipment Storage
Tool Storage
Personal Storage
Commercial Applications:


Construction Yard Equipment Storage
School Yard Equipment Storage
Inventory Overflow
File or Record Storage
Hazardous Material Storage
Fire Department Storage
45' High Cube Rental Container Specifications
Exterior
Interior
Door Openings
Trip Weight
Fork Pockets

Length: 45'

Width: 8'

Height: 9' 6"

Length: 44' 6"

Width: 7' 8"

Height: 8' 10"

Width: 7' 8"

Height: 8' 5"

Tare: 10,362 lbs

Max Gross: 71,6500

Cubic Cap: 3,040 cu. ft

Height: 0' 4 1/2"

Width: 1' 2 3 /16"

Center: 6' 9 7/8"
45' High Cube Container - Rental Modifications

Have questions or need assistance?
Why Buy From a Container Alliance Partner?

Largest Selection
Container Alliance offers the widest selection of high quality storage - shipping containers for sale or storage containers for rent.

Knowledge & Service
Container Alliance partner companies are highly knowledgeable and will understand your specific situation and provide the utmost customer care and service.