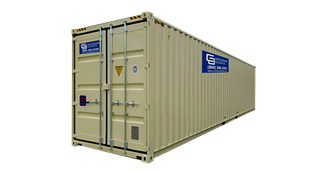 40' High Cube Container - Rental
High Capacity Height 9'6"
Premium Refurbished or New Container
40' High Cube Container - Rental
Container Alliance
 is our partner company for zipcode .
Give them a call to get a quote and reserve the next unit available today!
Overview
40' High Cube Container - Rental: Description
These 40-foot High Cube Rental Containers provide a valuable increase to a typical 40-foot long container's interior space. They are one foot taller than the standard height of an ISO container and allow for an impressive interior capacity of 2,694 cubic feet. The ceiling's increased height makes it exponentially easier to fit more and taller machinery or equipment inside.


Each of these 40-foot High Cube cargo boxes meets ISO specifications, meaning they offer you a secure option as a rental unit while simultaneously providing an increase in interior space. Each container features a security lockbox on its cargo doors so that whatever is inside is kept safe. The residential applications are numerous, including functioning as storage for vehicles, tool storage, home remodel projects, or as storage for farming and hunting equipment. Commercially, their usage is just as versatile. These High Cube Containers can be useful for construction yards, inventory overflow, hazardous material storage, or extra storage for any type of business.


Contact
Container Alliance
today to talk about renting the 40-foot High Cube Container and how it might suit your needs and specifications.
Residential Applications:


Home Remodels
Construction Projects
Car or Boat Storage
Farming or Hunting Equipment Storage
Tool Storage
Personal Storage
Commercial Applications:


Construction Yard Equipment Storage
School Yard Equipment Storage
Inventory Overflow
File or Record Storage
Hazardous Material Storage
Fire Department Storage
40' High Cube Container - Rental Specifications
Exterior
Interior
Door Openings
Trip Weight
Fork Pockets

Length: 40'

Width: 8'

Height: 9' 6"

Length: 39' 3"

Width: 7' 8"

Height: 8' 9 7/8"

Width: 7' 8"

Height: 8' 5"

Tare: 8,600

Max Gross: 67,200

Cubic Cap: 2,700 cu. ft

Height: 0' 4 1/2"

Width: 1' 2 3 /16"

Center: 6' 9 7/8"
40' High Cube Container - Rental Modifications

Have questions or need assistance?
Why Buy From a Container Alliance Partner?

Largest Selection
Container Alliance offers the widest selection of high quality storage - shipping containers for sale or storage containers for rent.

Knowledge & Service
Container Alliance partner companies are highly knowledgeable and will understand your specific situation and provide the utmost customer care and service.