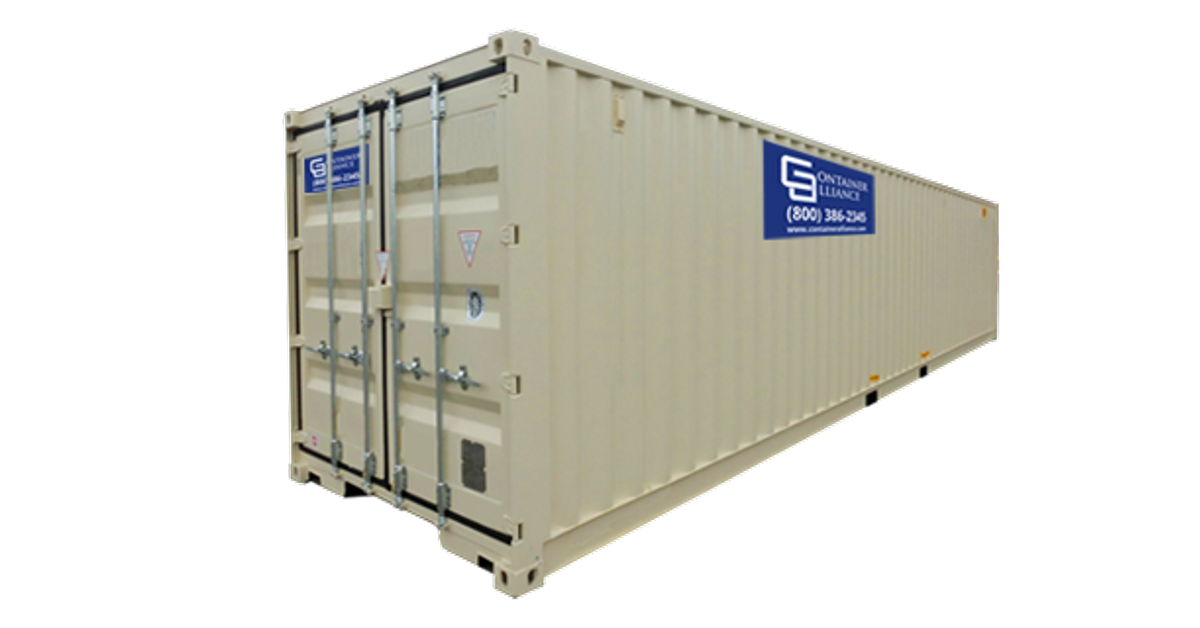 40' Container - Rental
Premium Refurbished or New Container
40' Container - Rental: Description
Our 40-foot Rental Containers offer a secure 2,350 cubic feet of interior storage space. These containers are constructed to ISO standard specifications, making them 8 feet wide and 8 feet 6 inches tall. The container is fabricated from 14-gauge corrugated steel walls. On the inside is marine-grade plywood flooring sturdy enough to hold whatever machinery, equipment, or other items you would like to store. Security is a priority for Container Alliance. The rental containers are kept secure with a lockbox on the cargo doors at the open end. We also have additional locking mechanisms that we sell separately to enhance your security options if needed.


The residential applications for these 40-foot Rental Containers include home remodeling, farm and hunting equipment storage, construction projects, and vehicle storage. Beyond the residential applications for these containers, commercial businesses will also find them beneficial. Their uses extend to construction yard equipment, inventory overflow, storage for holiday or seasonal-based businesses, or hazardous waste management.


Call us
at Container Alliance today to talk with your local representative about your rental container options.
Residential Applications:
Home Remodels
Construction Projects
Car or Boat Storage
Farming or Hunting Equipment Storage
Tool Storage
Personal Storage
Commercial Applications:


Construction Yard Equipment Storage
School Yard Equipment Storage
Inventory Overflow
File or Record Storage
Hazardous Material Storage
Fire Department Storage
40' Container - Rental Specifications
Exterior
Interior
Door Openings
Trip Weight
Fork Pockets

Length: 40'

Width: 8'

Height: 8' 6"

Length: 39' 3"

Width: 7' 8"

Height: 7' 9 7/8"

Width: 7' 8"

Height: 7' 5"

Tare: 8,600 lbs

Max Gross: 67,200 lbs

Cubic Cap:

Height: 1' 2 3 /16"

Width: 0' 4 1/2"

Center: 6' 9 7/8"

Have questions or need assistance?
Why Buy From a Container Alliance Partner?

Largest Selection
Container Alliance offers the widest selection of high quality storage - shipping containers for sale or storage containers for rent.

Knowledge & Service
Container Alliance partner companies are highly knowledgeable and will understand your specific situation and provide the utmost customer care and service.