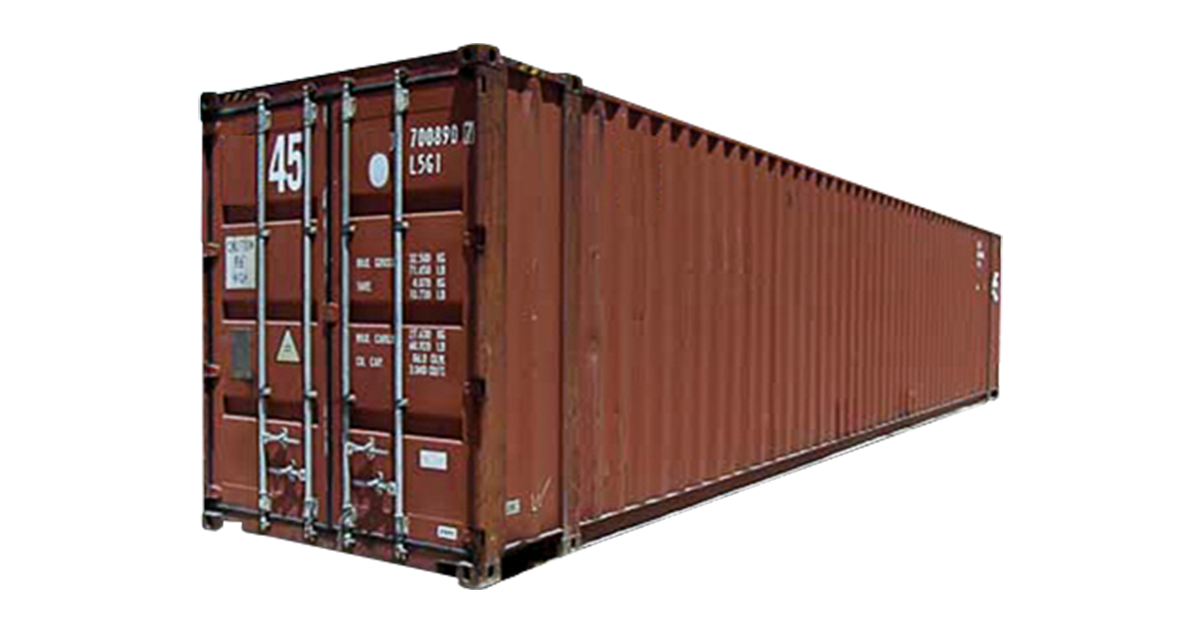 45ft High Cube IICL-5 Shipping Container, 45ft High Cube IICL-5 Storage Container
Overview
Highest grade used container with cargo doors on one end. Dimensions: 45' length, 8' width, 9'6" height.
Highest Grade Used Container
45ft High Cube IICL-5 Shipping Container, 45ft High Cube IICL-5 Storage Container: Description
If you're looking for the ultimate in cargo capacity, a 45-foot high-cube container is your best option. This extra-large shipping container is 9 feet, 6 inches tall, which is much larger than an 8 foot, 6-inch standard ISO container. There's a full 3,043 cubic feet of space inside, offering an excellent value for its size. Depending on inventory levels, we often have 45-foot high cube containers for sale at the same price as a standard 40-foot unit.


Each 45-foot high container also has additional posts at the 40-foot mark so that they
can be stacked
with standard 40-foot containers. Thanks to the extra support, these containers are also a popular option for building
shipping container homes
.
Container Alliance is the number one source for large shipping containers for sale. We also offer a variety of
shipping container modifications
so you can customize your container to meet your unique needs.
Contact us today to learn more about the cost and delivery details. For extra peace of mind, ask your sales rep about upgrading to a shipping container with an IICL rating. This guarantees a high-quality standard and ensures your shipping container will offer dependable performance for many years.


45ft High Cube IICL-5 Shipping Container, 45ft High Cube IICL-5 Storage Container Specifications
Exterior
Interior
Door Openings
Trip Weight
Fork Pockets

Length: 45'

Width: 8'

Height: 9' 6"

Length: 44' 6"

Width: 7' 7"

Height: 8' 7"

Width: 7' 8"

Height: 8' 6"

Tare: 10,362 lbs

Max Gross: 71,650 lbs

Cubic Cap: 3,040 cu. ft

Height: 0' 4 1/2"

Width: 1' 2 3 /16"

Center: 6' 9 7/8"

Have questions or need assistance?
Why Buy From a Container Alliance Partner?

Largest Selection
Container Alliance offers the widest selection of high quality storage - shipping containers for sale or storage containers for rent.

Knowledge & Service
Container Alliance partner companies are highly knowledgeable and will understand your specific situation and provide the utmost customer care and service.