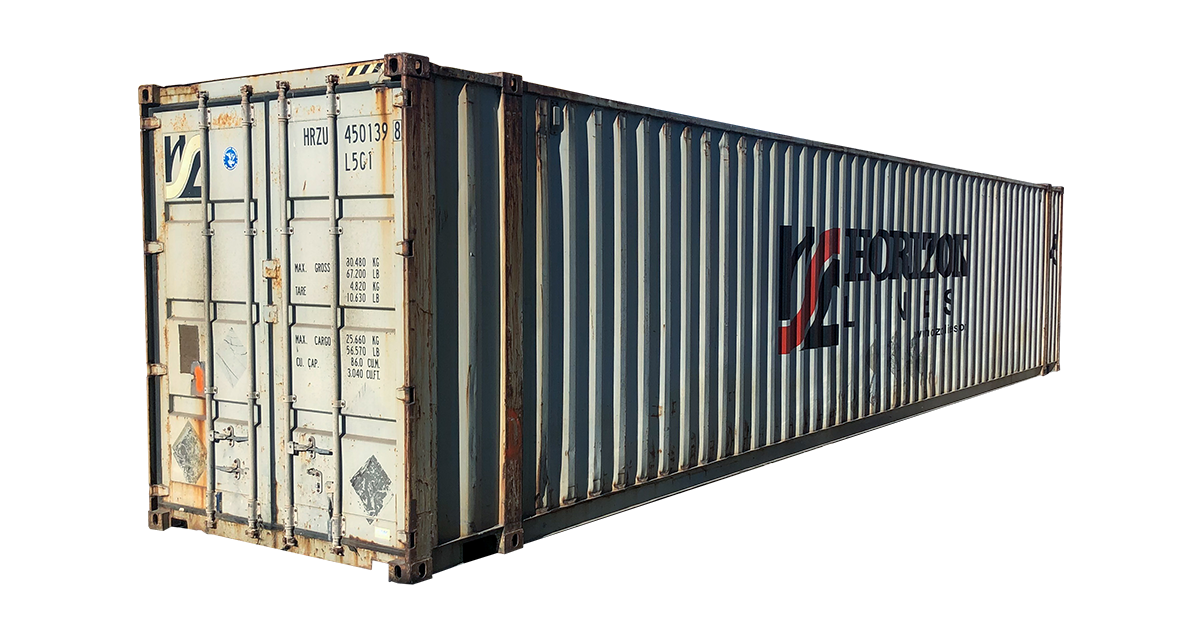 45ft High Cube Wind and Water Tight Container
Overview
Most economical used container with cargo doors on one end. Dimensions: 45' length, 8' weight, 9'6" height.
Typically over 10 Years Old
Description
The 45-foot High Cube Wind and Water Tight Containers sold at Container Alliance have been retired by the shipping line and are now available at budget-friendly prices. They are one of our most popular products for their combination of low price point and high level of functionality. "High Cube" means the container is 9 feet 6 inches tall instead of 8 feet 6 inches of the standard ISO containers. It increases their interior storage space to 3,043 cubic feet.

Beyond having the largest cubic capacity of any other product, the 45-foot High Cube Wind and Water Tight Containers are very functional. They have an additional post at the 40-foot mark, which allows them to be stacked with 40-foot containers as well as 45's. The Wind and Wight Tight, or WWT containers, are guaranteed to be weatherproof after receiving inspections and certifications from Container Alliance teams. They often come in random colors, with surface rust in some areas that have been scratched or dented. Nonetheless, they are fully functional and entirely secure but with a more economical cost.

Call us at Container Alliance today for more information.

Looking for the most economical yet functional solution for your Storage Container? Wind and Water Tight or "WWT containers" are the most affordable yet functional cargo boxes you will find. These containers are in abundant supply and range in condition. These units are typically randomly colored and contain surface rust mainly where they have been scratched or dented. When you work with Container Alliance, your Storage Container will be guaranteed to be Wind and Water Tight for at least two years, so ask your local sales rep about this particular condition category, as it is the most cost­ efficient portable storage solution.
45ft High Cube Wind and Water Tight Container Specifications
Exterior
Interior
Door Openings
Trip Weight
Fork Pockets

Length: 45'

Width: 8'

Height: 9' 6"

Length: 44' 6"

Width: 7' 7"

Height: 8' 7"

Width: 7' 8"

Height: 8' 6"

Tare: 10,362 lbs

Max Gross: 71,650 lbs

Cubic Cap: 3,040 cu. ft

Height: 0' 4 1/2"

Width: 1' 2 3 /16"

Center: 6' 9 7/8"

Have questions or need assistance?
Why Buy From a Container Alliance Partner?

Largest Selection
Container Alliance offers the widest selection of high quality storage - shipping containers for sale or storage containers for rent.

Knowledge & Service
Container Alliance partner companies are highly knowledgeable and will understand your specific situation and provide the utmost customer care and service.