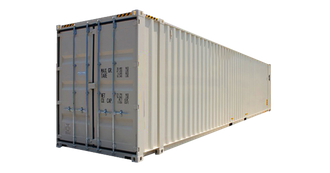 One Trip 45ft Shipping Container For Sale
Overview
Like new container with cargo doors on one end. Dimensions: 45' length, 8' width, 9'6" height.
Largest Cubic Capacity Available 
One Trip 45ft Shipping Container For Sale
Container Alliance
 is our partner company for zipcode .
Give them a call to get a quote and reserve the next unit available today!
Overview
Like new container with cargo doors on one end. Dimensions: 45' length, 8' width, 9'6" height.
45ft One Trip High Cube Container: Description
The 45-foot High Cube One Trip Container comes at a great value for its size and suits a wide range of project types. These ISO units have the largest cubic capacity available. They stand at 9 feet 6 inches high, a foot taller than standard units, and offer 3,043 cubic feet of interior space. Security is also a priority since they come equipped with factory lockboxes. These 45ft storage containers are constructed from 14-gauge corrugated sheets, and the interior is laid with eco-friendly flooring for a durable, long-lasting finish. You will receive your 45ft HC container in like-new condition, ready to adapt to various projects. The additional post on these units is placed at the 40-foot mark, allowing them to be stacked with 40-foot and 45-foot containers. This added support makes them favorable for clients in the shipping, construction, and housing industries. The price point is manageable for customers on a budget since we often offer them at the same price as 40-foot standard units, depending on inventory levels.
Choosing to purchase a 45ft container for sale through Container Alliance means you have access to the largest selection of options as well as top-quality customer service. Our network of partners ensures you'll find a 45ft high cube container for sale that meets your exact specifications for whatever application you have. Our experts can guide you through the process of selecting the 1trip containers that are right for you. Call us today for a quote or more information from your local representative.
One Trip 45ft Shipping Container For Sale Specifications
Exterior
Interior
Door Openings
Trip Weight
Fork Pockets

Length: 45'

Width: 8'

Height: 9' 6"

Length: 44' 6"

Width: 7' 7"

Height: 8' 7"

Width: 7' 8"

Height: 8' 6"

Tare: 10,362 lbs

Max Gross: 71,650 lbs

Cubic Cap: 3,040 cu. ft

Height: 0' 4 1/2"

Width: 1' 2 3 /16"

Center: 6' 9 7/8"
45ft One Trip High Cube Container Modifications

Have questions or need assistance?
Why Buy From a Container Alliance Partner?

Largest Selection
Container Alliance offers the widest selection of high quality storage - shipping containers for sale or storage containers for rent.

Knowledge & Service
Container Alliance partner companies are highly knowledgeable and will understand your specific situation and provide the utmost customer care and service.