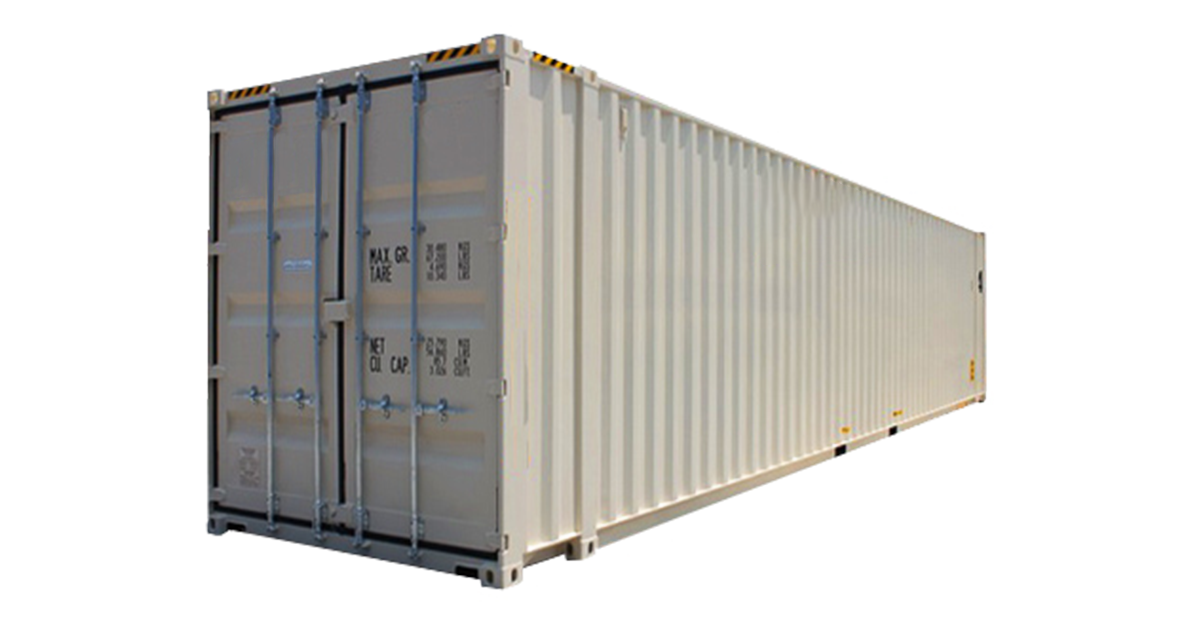 45ft High Cube One Trip Container
Overview
Like new container with cargo doors on one end. Dimensions: 45' length, 8' width, 9'6" height.
Largest Cubic Capacity Available 
Description
The 45-foot High Cube One Trip Container comes at a great value for its size and suits a wide range of project types. These ISO units have the largest cubic capacity available. They stand at 9 feet 6 inches high, a foot taller than standard units, and offer 3,043 cubic feet of interior space. Security is also a priority since they come equipped with factory lockboxes. They are constructed from 14-gauge corrugated sheets, and the interior is laid with eco-friendly flooring for a durable, long-lasting finish. You will receive your 45-foot High Cube One Trip Container in like-new condition, ready to adapt to various projects. The additional post on these units is placed at the 40-foot mark, allowing them to be stacked with 40-foot and 45-foot containers. This added support makes them favorable for clients in the shipping, construction, and housing industries. The price point is manageable for customers on a budget since we often offer them at the same price as 40-foot standard units, depending on inventory levels. Call us at Container Alliance today for a quote or more information from your local representative.
45ft High Cube One Trip Container Specifications
Exterior
Interior
Door Openings
Trip Weight
Fork Pockets

Length: 45'

Width: 8'

Height: 9' 6"

Length: 44' 6"

Width: 7' 7"

Height: 8' 7"

Width: 7' 8"

Height: 8' 6"

Tare: 10,362 lbs

Max Gross: 71,650 lbs

Cubic Cap: 3,040 cu. ft

Height: 0' 4 1/2"

Width: 1' 2 3 /16"

Center: 6' 9 7/8"

Have questions or need assistance?
Why Buy From a Container Alliance Partner?

Largest Selection
Container Alliance offers the widest selection of high quality storage - shipping containers for sale or storage containers for rent.

Knowledge & Service
Container Alliance partner companies are highly knowledgeable and will understand your specific situation and provide the utmost customer care and service.