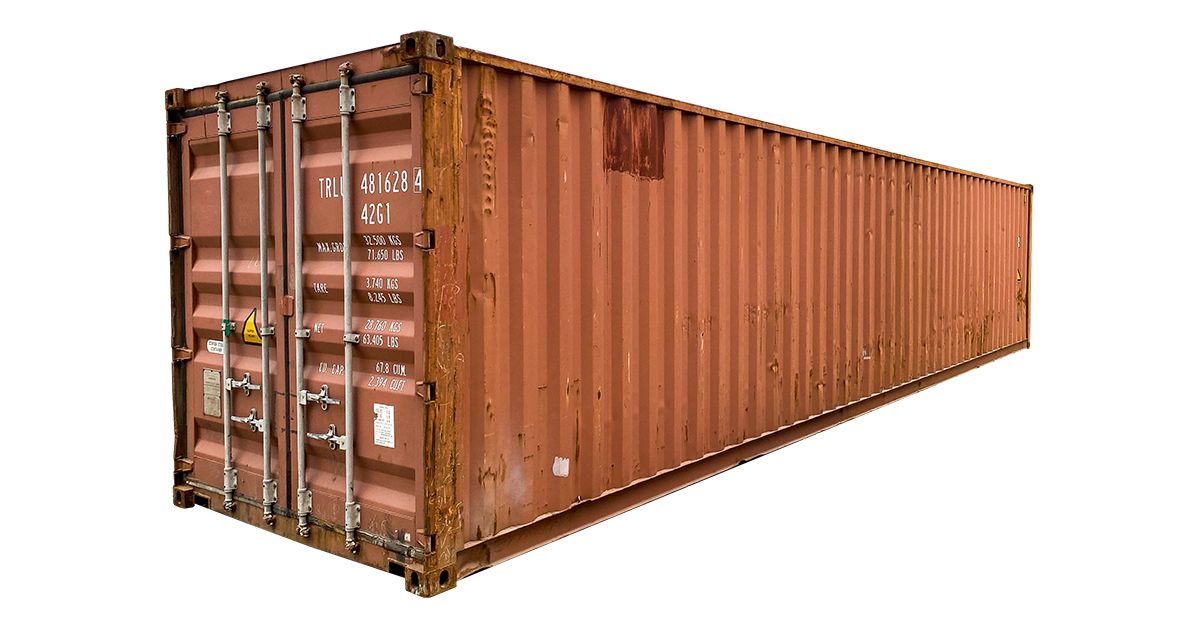 40ft Wind and Water Tight Shipping Container
Overview
Most economical used container with cargo doors on one end. Dimensions: 40' length, 8' width, 8'6" height.
Typically over 10 years old 
Description
40-foot Wind and Water Tight Container are our most popular option as a larger container. The containers were originally part of shipping lines and have since been retired. They are made from 14-gauge corrugated steel and marine-grade plywood flooring. Buying one of these Wind and Water Tight Containers or "WWT Containers" from Container Alliance guarantees that you will receive a container that is wind and watertight. These 40-foot Wind and Water Tight Containers are not only durable and can easily withstand harsh weather but are the most cost-effective choice on the market. They are abundant and come in a wide range of conditions. They might have surface rust from areas they have been dented. The containers have been inspected and tested for their overall integrity, meaning no matter what they look like on the outside, they serve their purpose well at a more budget-friendly price point. Here at Container Alliance, we offer a range of customization options to help suit the container to you. Call today to talk with a sales rep about your container requirements.
40ft Wind and Water Tight Shipping Container Specifications
Exterior
Interior
Door Openings
Trip Weight
Fork Pockets

Length: 40'

Width: 8'

Height: 8' 6"

Length: 39' 3"

Width: 7' 8"

Height: 7' 9 7/8"

Width: 7' 8"

Height: 7' 5"

Tare: 8,600 lbs

Max Gross: 67,200 lbs

Cubic Cap: 2,700 cu. ft

Height: 1' 2 3 /16"

Width: 0' 4 1/2"

Center: 6' 9 7/8"

Have questions or need assistance?
Why Buy From a Container Alliance Partner?

Largest Selection
Container Alliance offers the widest selection of high quality storage - shipping containers for sale or storage containers for rent.

Knowledge & Service
Container Alliance partner companies are highly knowledgeable and will understand your specific situation and provide the utmost customer care and service.