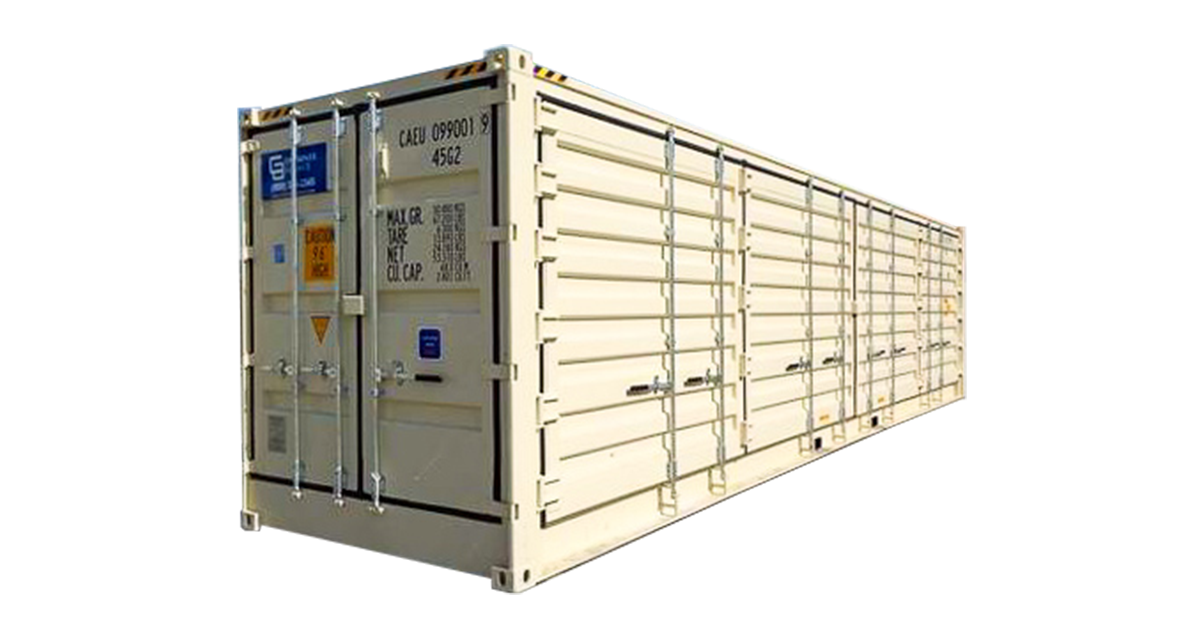 40ft Open Side One Trip Container
Overview
Like new container with full side open option. Dimensions: 40' length, 8' width, 9'6" height.
Full Side Opens Floor to Ceiling
Description
Our 40-foot High Cube Open Side One Trip Container comes built with eco-friendly wooden flooring and corrugated metal sides. The containers are built with factory lockboxes and painted your desired color without a shipping label. These 40-foot High Cube Open Side One Trip Containers maximize adaptability to a variety of purposes since they do not only have one cargo door at their end. Instead, these containers are equipped with four side panels that allow one side to hinge open lengthwise and in segments starting from the center. The side panels open the container from floor to ceiling to allow you greater access to the inside. The doors on this container come with security lock boxes for a valuable focus on safety. We have these units manufactured and imported from overseas. They suit a wide variety of storage, remodeling, home, and construction purposes due to their enhanced entryway flexibility. For further customization to suit your needs, such as the addition of custom doors or colors to match a specific project, give us a call today and receive a quote.
40ft Open Side One Trip Container Specifications
Exterior
Interior
Door Openings
Trip Weight
Fork Pockets

Length: 40'

Width: 8'

Height: 8' 6"

Length: 39' 3"

Width: 7' 8"

Height: 7' 9 7/8"

Width:

Height:

Tare: 13,051 lbs

Max Gross: 67,200 lbs

Cubic Cap: 2,700 cu. ft

Height: 1' 2 3 /16"

Width: 0' 4 1/2"

Center: 6' 9 7/8"

Have questions or need assistance?
Why Buy From a Container Alliance Partner?

Largest Selection
Container Alliance offers the widest selection of high quality storage - shipping containers for sale or storage containers for rent.

Knowledge & Service
Container Alliance partner companies are highly knowledgeable and will understand your specific situation and provide the utmost customer care and service.