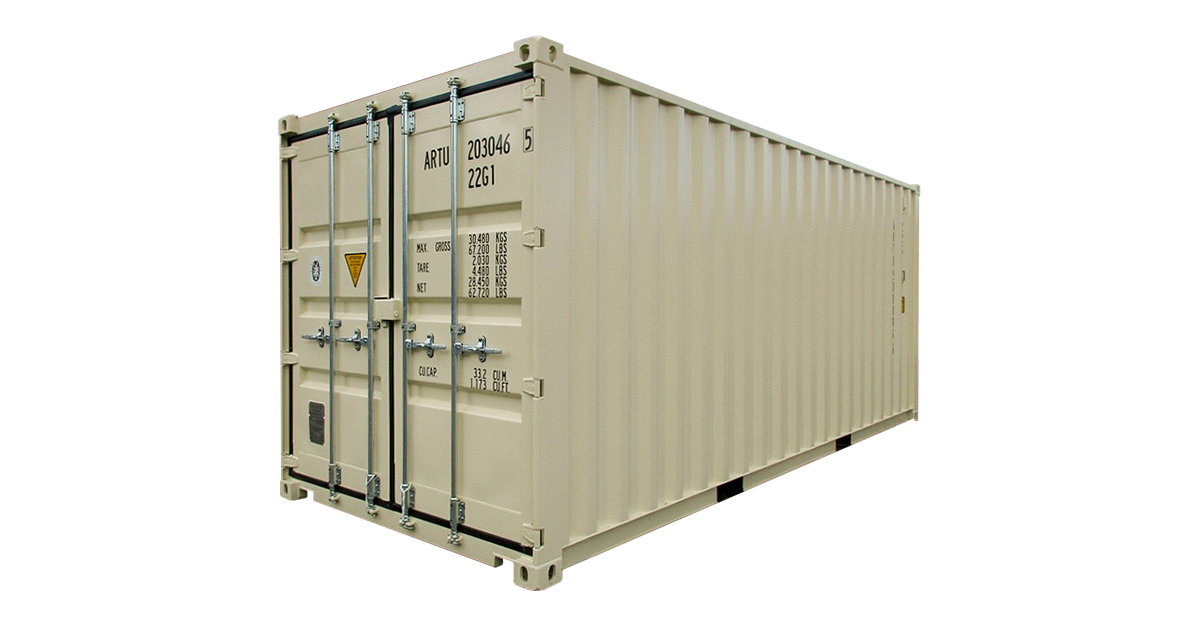 20ft One Trip Shipping Container
Overview
Like new container with cargo doors on one end. Dimensions: 20' length, 8' width, 8'6" height.
Description
When you need reliable storage, turn to our 20-foot one trip container. With 1,158 cubic feet of storage space, you'll discover room for all your goods in an easy to transport package. You don't need to worry about the condition of your 20-foot container when you choose a one trip container from Container Alliance.

Our containers are shipped with a single container cargo load. They never sit at sea or in storage yards for extended periods, so you can expect "like new" containers.

These spacious, purpose-built one trip containers are the perfect solution to your personal or commercial needs, from home renovations to construction or hospital storage— the possibilities are endless. Whether you want one door or two doors, or a container in a certain color, Container Alliance shipping containers are sure to please. Our 20-foot one trip containers are always in good working order, with intact seals and hardworking eco-friendly flooring. At Container Alliance, you'll get the space you need for any purpose in one durable storage solution.



20ft One Trip Shipping Container Specifications
Exterior
Interior
Door Openings
Trip Weight
Fork Pockets

Length: 20'

Width: 8'

Height: 8' 6"

Length: 19' 3"

Width: 7' 8"

Height: 7' 9 7/8"

Width: 7' 6"

Height: 7' 5"

Tare: 4,810 lbs

Max Gross: 67,200 lbs

Cubic Cap: 1,158 cu. ft

Height: 0' 4 1/2"

Width: 1' 2 3 /16"

Center: 6' 9 7/8"

Have questions or need assistance?
Why Buy From a Container Alliance Partner?

Largest Selection
Container Alliance offers the widest selection of high quality storage - shipping containers for sale or storage containers for rent.

Knowledge & Service
Container Alliance partner companies are highly knowledgeable and will understand your specific situation and provide the utmost customer care and service.