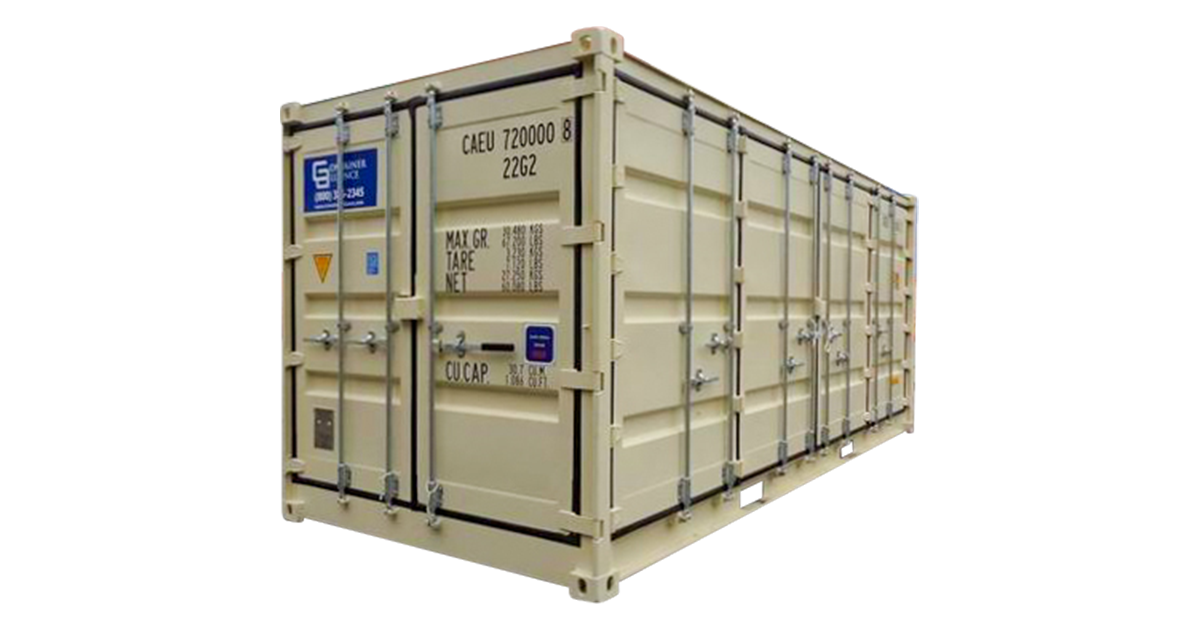 20' Standard Open Side Container - One Trip
Overview
Like new container with full side open option. Dimensions: 20' length, 8' width, 8'6" height.
Full Side Opens Floor to Ceiling
20' Standard Open Side Container - One Trip: Description
If you need a storage container to protect your merchandise, construction materials, or as a sturdy shed at your home, our 20-foot Open Side One Trip Containers are perfect.

You can trust that our well-built containers will keep your belongings secure and in good condition. Manufactured and coming from overseas, our 20-foot Open Side One Trip Containers are designed and built to endure harsh weather conditions like rain and extreme cold and heat. With only one use, shipping from overseas—most commonly Asia—the containers are in like-new condition, featuring no shipping labels or bright colors.

They are ready for you to use for your business or home projects. Each shipping container comes with factory lockboxes for top security, which is important for securing multiple points of entry. Our 20-foot Open Side One Trip Container has one set of cargo doors on one end and another secure opening on the side of the container for easy access, moving in and out of the container. If you need secure storage, give us a call to discuss these open side containers.


20' Standard Open Side Container - One Trip Specifications
Exterior
Interior
Door Openings
Trip Weight
Fork Pockets

Length: 20'

Width: 8'

Height: 8' 6"

Length: 19' 4"

Width: 7' 6"

Height: 7' 6 7/8"

Width: 7' 8"

Height: 7' 5"

Tare: 6750 lbs

Max Gross: 67,200 lbs

Cubic Cap:

Height: 1' 2 3 /16"

Width: 0' 4 1/2"

Center: 6' 9 7/8"

Have questions or need assistance?
Why Buy From a Container Alliance Partner?

Largest Selection
Container Alliance offers the widest selection of high quality storage - shipping containers for sale or storage containers for rent.

Knowledge & Service
Container Alliance partner companies are highly knowledgeable and will understand your specific situation and provide the utmost customer care and service.