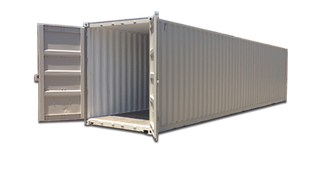 40ft Refurbished Shipping Container
Added Layer of Protection
Also Available in High Cube
40ft Refurbished Shipping Container
Container Alliance
 is our partner company for zipcode .
Give them a call to get a quote and reserve the next unit available today!
Overview
40ft Refurbished Container: Description
The signature 40-foot Refurbished Containers from Container Alliance have not simply been repainted. These used containers have been carefully selected, received a thorough inspection, and are then entirely refurbished. Our process involves removing surface rust, dirt, or old company logos or decals. Following this process, the container is made like-new by receiving a rust-prohibitive primer and rust-resistant paint. Undergoing one last inspection and testing process before finalizing the job ensures the containers' durability and high-quality. In the end, our refurbished and treated containers will last longer than untreated shipping containers. Our 40-foot refurbished containers give you a secure option for any project or storage requirement. They offer 2,350 cubic feet of interior space. Shifting up from the 20-foot storage containers, you receive 1.4 times the square footage — making the 40-foot refurbished containers a cheaper option per square foot. They are constructed from 14-gauge corrugated steel walls with flooring of marine-grade plywood to enhance the entire unit's durability and longevity. At Container Alliance, we offer a variety of custom modifications. Call us today for project-specific information.
40ft Refurbished Shipping Container Specifications
Exterior
Interior
Door Openings
Trip Weight
Fork Pockets

Length: 40'

Width: 8'

Height: 8' 6"

Length: 39' 3"

Width: 7' 8"

Height: 7' 9 7/8"

Width: 7' 8"

Height: 7' 5"

Tare: 8,600 lbs

Max Gross: 67,200 lbs

Cubic Cap: 2,700 cu. ft

Height: 1' 2 3 /16"

Width: 0' 4 1/2"

Center: 6' 9 7/8"
40ft Refurbished Container Modifications

Have questions or need assistance?
Why Buy From a Container Alliance Partner?

Largest Selection
Container Alliance offers the widest selection of high quality storage - shipping containers for sale or storage containers for rent.

Knowledge & Service
Container Alliance partner companies are highly knowledgeable and will understand your specific situation and provide the utmost customer care and service.