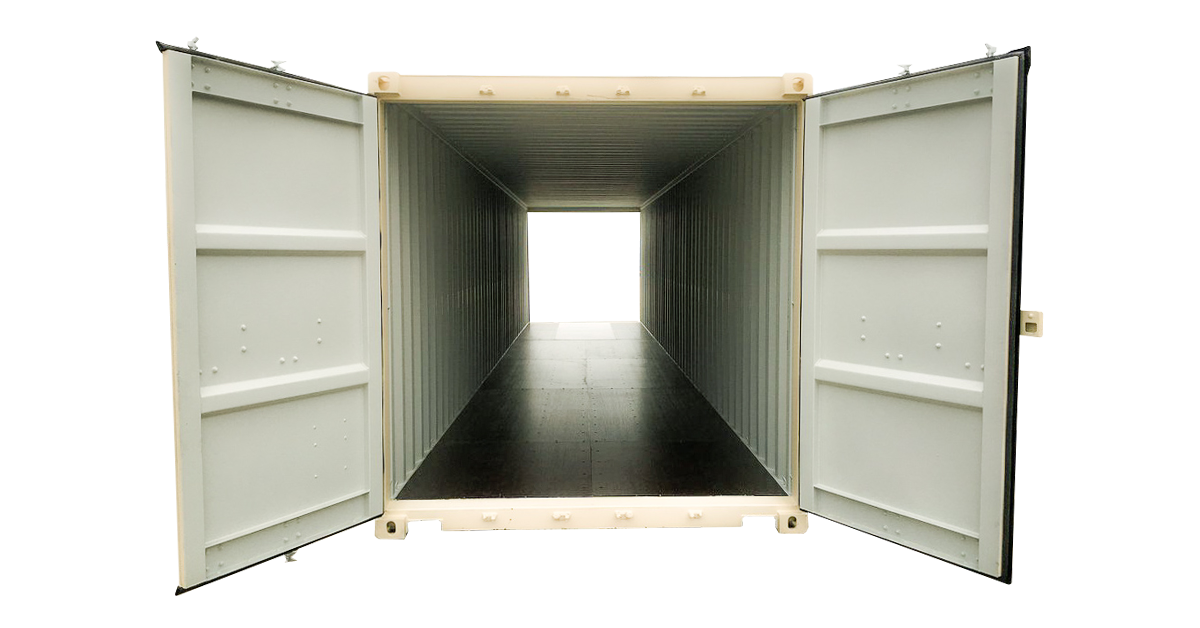 40ft High Cube Double Door One Trip Container
Overview
Like new container with cargo doors on both ends. Dimensions: 40' length, 8' width, 9'6" height.
Description
Manufactured and loaded up overseas, 40-foot High Cube Double Door One Trip Containers only make that single ocean voyage, so they come to us in beautiful like-new condition. These containers are especially sought after for projects with high visibility since they haven't been battered during multiple overseas trips or in ports and depots, and they have no unsightly labels or branding. They are a clean slate, ready for any use. With doors and factory lockboxes available at both ends and a full foot more vertical space at 9-feet, 6-inches, it's no surprise this unit is an all-around favorite. With an exterior built from 14-gauge corrugated, anti-corrosive steel, the interior features marine-grade eco-friendly flooring that resists fungal and termite infestations. At the same time, the sealed seams mean it is water-tight to keep your stored goods protected. The included double doors are a convenient feature that increases the container's accessibility and usefulness. Their inclusion means there is one less thing for you to modify on your shipping container unit, making it an excellent value on top of all of its other benefits. One Trip Container Condition: One trip containers are manufactured overseas – mainly in Asia, and shipped with a single container cargo load. Once containers reach their destination, they are often available for sale. These containers are an excellent choice because they have not spent time on the ocean or in a container depot / terminal. One trip containers are available worldwide in most port locations. We offer one trip containers in various sizes and door configurations from 10ft to 40ft in length with doors on one or both ends. These units are in "like new" condition although in that single trip they can acquire a few dents and scratches mainly on the corner-posts typically. These scratches simply need a bit of touch up. We also offer "high cube" one trip containers in the same dimensions and configurations. For more information on one trip containers, call your local sales representative today to find out which option best suits your needs.
40ft High Cube Double Door One Trip Container Specifications
Exterior
Interior
Door Openings
Trip Weight
Fork Pockets

Length: 40'

Width: 8'

Height: 9' 6"

Length: 40"

Width: 7' 8"

Height: 8' 10"

Width: 7' 8"

Height: 8' 5"

Tare: 9,260 lbs

Max Gross: 67,200 lbs

Cubic Cap: 2,381 cu. ft

Height: 0' 4 1/2"

Width: 1' 2 3 /16"

Center: 6' 9 7/8"

Have questions or need assistance?
Why Buy From a Container Alliance Partner?

Largest Selection
Container Alliance offers the widest selection of high quality storage - shipping containers for sale or storage containers for rent.

Knowledge & Service
Container Alliance partner companies are highly knowledgeable and will understand your specific situation and provide the utmost customer care and service.